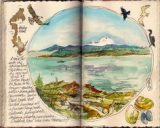 New Art Journaling Workshop
Meeting Tuesday, May 2 and May 30  At  6:30 p.m.
Foster Public Library
184 Howard Hill Road, Foster, RI
Art Journaling is a creative way to give an old book new life by placing original new artwork, text, objects and images inside the pages of a book.

Some examples:  Travel Journal, Nature Journal, Diary, Children's storybook, poetry, scrapbook.

Instruction provided.  Signup at Tyler Free Library and Foster Public Library.

Materials fee of $3.00 per person. Recommended for adults and teens.