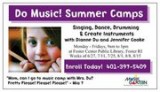 This class offers adults the opportunity to play with their babies and toddlers in a musical setting, experiencing music and movement activities designed to delight the child and awaken his or her curiosity about music. By singing, dancing, bouncing, and rocking, the child's music aptitude is being carefully nurtured, laying the foundation for beat awareness, vocal production, and aural discrimination.
Activities include singing, bouncing songs, rocking songs, dances, finger plays, body awareness games and echoes.
Dianne Du, Certified and Licensed by Musikgarten for Early Childhood and Piano Instruction
10:00am on Fridays at Tyler Free Library.  Email du.dianne@gmail.com to register.