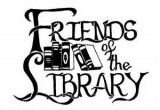 The next meeting of the Friends will be at 6:00pm, Tuesday, October 25 at Foster Public Library to discuss plans for fall and spring events. All are welcome to share ideas to help and promote the libraries.
Light refreshments provided.
______________________________________________________________________
The Friends of the Libraries of Foster, meet next on Monday February 29th at Tyler Free Library at 6 p.m. (snow date March 7) to discuss the Calendar Raffle results, purchases for the libraries, and an exciting new idea for a spring event.
Please join us and bring a friend. We look forward to working together to help out the Libraries of Foster. Hope to see you there……….
Monday February 29th, 6 p.m.

at Tyler Free Library, 81A Moosup Valley Road, Foster, RI 401-397-7930
 More about the Friends activities and how to become a member.