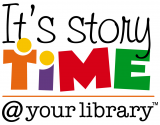 Storytime is held at the Tyler Free Library on Wednesdays at 10:00am for ages infant to preschool.
April Schedule

April 2 GOLD FISH, BLUE FISH: We will "search" the ocean for colored fish and make our own "ocean" to take home.' FISH TALES by Don Abbott is our book.
9th AWESOME ANIMALS; We will learn about the wonderful
animals that roam our world. A special contest to see who can name
the most animals! "Animal Crackers" for everyone!
16th EASTER EGG HUNT; We will go on a special hunt to see
what treasures we will find. MAX AND RUBY will help us find
them. This will be a special day for all Max and Ruby fans!
BRING YOUR PAILS !!
23RD THIS STORY TIME WILL BE XTRA SPECIAL FOR ALL AGES !
** Special guests and fury animals.. DON'T MISS THIS ONE
30TH FARM FUN; We will explore the fun world of farms. From
cows to tractors, we will make our own "farm" to take home