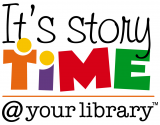 Storytime is held at the Tyler Free Library on Wednesdays at 10:00am for ages infant to preschool.
September 2012 Schedule
September 5       Laugh Along with Max and Ruby, Rosemary Wells'
colorful duo. Games, stories and songs will precede a
wonderfully funny Max and Ruby movie !!
September 12           'Mother Goose is on the Loose"  Sing along and play
games while learning Mother Goose's beloved nursery
rhymes. A special nursery rhyme craft to take home will
be featured.
September 19           "It's All About Me"   Create a picture frame craft and listen to
Stories by author Anne Rockwell  who describes how great
and special you really are !
September 26            Celebrate Jonny Appleseeds Birthday… with flannelboard
games, songs and stories about his apple adventures. Bring
home an "apple tree" craft and taste a variety of Fall apples
along with donuts and cider!