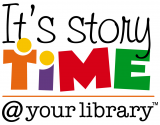 Story time is held at the Tyler Free Library on Wednesdays at 10:00am for ages infant to preschool.
June Schedule

June:       4th        Plant a Rainbow:  We will make a sparkling rainbow
after reading Lois Ehlert's book about rainbows!
11th      A Special Father's Day craft to take home along with a
surprise gift for all.  Crafts, fun and giggles for all!!
18th    This is a Sunflower by Shaefer is our read.
Make and take a "Sunflower" feeder for the birds.
25th    Beach Fun:   Anne Rockwell's great book Beach Fun and
we will make a "Beach Bag" to take to the beach.