The Libraries are currently closed to the public (updated 7/28/20)…SUMMER SERVICE HOURS &  Information on reopening plans
Curbside Pickup July 2020, read more…
_____________________________________________________________________
Register online for Summer Reading,  Registration Packets & free books & incentives – CALL for details
____________________________________________________________________
JULY Newsletter & New Book Lists
___________________________________________________________________
New Library Blog: Foster Archive of the Pandemic 2020
Covid-19 Information  links to reliable, trusted sources online
TumbleBooks – free ebooks for children & teens & Light reading for Adults
Live Story Time 8:00 p.m. on the library Facebook Page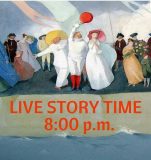 Upcoming Elections & Voter Registration Information
 Online Learning & Enrichment Resources
Health Resources & Coronavirus Fact Sheet  
Need a book or movie but can't come in to the libraries?  Find Free Digital reading/listening
For help accessing free eZone digital reading and viewing call us at 397-4801 to speak to a librarian who can get you started using free digital materials.
All Library programs are now virtual.
Virtual Events for August 2020
Picnic Story time Wednesdays at 12:00 p.m.
Knitting Group Wednesdays at 6:00 p.m.
Libby App Training Thursday August 6 starting at 9:00 a.m. – 11:00 a.m. (half hour sessions)
Cookbook Club (Theme: Burgers) Thursday August 13 at 6:00 p.m.
Tyler Book Group Monday August 24 4:30 p.m.
All events require preregistration. Contact libraries.of.foster@gmail.com to register.
_________________________________________
eZone Help  HERE/    Special Collections List