The Friends of the Libraries of Foster is a group of library lovers and dedicated volunteers. They hold fundraisers to supplement the libraries' materials and programming budget throughout the year and serve as library advocates in the community.
The meeting on Monday, Dec. 2 is postponed to 12/12
The next meeting is Monday, December 12, 2019 at 6:00 p.m.,  Foster Public Library to hold the Quilt Raffle drawing, followed by a brief meeting to discuss final plans for the February Calendar Raffle.

____________________________________________________________
BINGO Night 
Saturday, November 16 at 7 :00 p.m. to 9:00 p.m. Moosup Valley Grange
Game cards can be purchased at the door, $10 for 10 game cards, and you are entered in a free door prize raffle. Winners pick from a beautiful selection of donated baskets of food and goods; 10 baskets will be won this evening!  End the evening with a final Bingo game. Tickets are $2 each card for the final game and the winner takes home a $25 gift certificate prize.  Enjoy many fun games of Bingo and help support your public libraries in Foster.  All proceeds go towards new moveable shelving for the libraries in Foster.  Free refreshments.
QUILT Raffle – Drawing on Thursday, December 12, 2019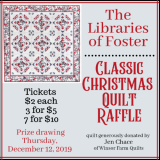 A beautiful quilt sewn by Jennifer Chace is on display at the Libraries.  The Winsor Farm Quilt, in stunning holiday colors, makes a fantastic gift.  It is sewn by foster resident, Jennifer Chace. Tickets are on sale at both libraries up to December 12. Just $2 per ticket ($5 for 3 tickets; $10 for 7 tickets).
Proceeds from this fundraiser will be put towards new moveable library shelving. The raffle drawing is Thursday, December 12, 2019.
____________________________________________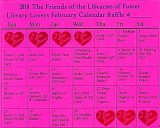 Thank you to all the donors and ticket holders who made the 2019 Library Lovers February Calendar Raffle such a success.  We raised funds for Summer Reading 2019 and several special library programs including a speaker for Rhode Island Library Day on April 13.
____________________________________________
BINGO NIGHT
Saturday, November 10, 7:00 p.m.
@ Moosup Valley Grange
Tickets for $10 each include 10 rounds of Bingo and free entry in a door prize raffle.
The Friends of the Libraries of Foster is holding a fall fundraiser Bingo night to raise funds for the summer reading program 2019. Bingo game prizes will be a variety of gift cards to local businesses or baskets of local produce. Tickets for the eleventh and final round of Bingo will be sold for $5 at the door. The final round has a grand prize of a basket of ingredients for Thanksgiving appetizers.
Everyone wins when you bring your friends to Bingo; enjoy an evening of fun as you support your local library and summer reading.
---
During Foster Old Home Days (July 27 – 29, 2018) we drew 6 winners and raised funds for four new library programs in the coming year.  Thank you to all the volunteers and donors who made this possible.
Proceeds from the raffle ticket sales go the library programming.
---
The Libraries of Foster present a
SPRING CONTRA DANCE!
with Special Contra Caller,  Paul Wilde

Music by the May Bees
Saturday, June 3, 2017 at  7 P.M.
Moosup Valley Grange
Tickets go on sale May 15, 2017 at both Tyler Free Library and at Foster Public Library.  Tickets are $10 per person at the libraries and tickets may also be sold at the door, depending on available space.
Refreshments and basket raffle tickets will be sold; All proceeds to benefit the libraries.
  Dancing at 7 p.m.
All welcome!  
---
Some recent Friends events…..
  February 2017 Library Lovers Calendar Raffle!
Each day in February, a winner is announced
, giving everyone multiple chances to win.  Prizes include gift certificates to several restaurants and local businesses, movie tickets, artwork from local artists, gift baskets and so much more.  Your purchase of one or more of these tickets helps to support your local Foster libraries.  Tickets will be on sale at both Foster Public Library and Tyler Free Library.    For more information contact the Lori Tait,  or LOF Director, Katherine Chansky at 401-397-7930/ 401-397-4801
  Friends of the Libraries of Foster Members List:
Barbara Ahlquist
Jessica Barry
Katherine Chansky
Sandy DiRaimo
Ed Haynes
David Hughes
Denise Joyal
Leslie Karkos
Phoebe Karkos
Karen Mueller
Dottie Rapson
Linda Ritchie
Linda Roberts
Nancy Smith
Lori Tait, Coordinator
Suzanne Tait
Bev Thornton
Save