February is library lover's month!
Announcing The Friends of the Libraries of Foster Calendar Raffle 2019
How much are the tickets? Tickets are $ 10 each. Buy as many as you like and double or triple your chances.
How many times can I win?  No Limit!  Your ticket is re-entered each day in February for 28 chances (!) to win.
 Where can I Buy a Ticket?   You can purchase tickets in person or by sending in a check to the library made out to "The Friends of L.of.F."  Tickets are on sale at Foster Public Library and Tyler Free Library starting January 2, 2019.

Where do I send in a check? Mail checks to: Calendar Raffle, The Libraries of Foster, 184 Howard Hill Road, Foster, RI 02815.
$10/ ticket –Proceeds will be used to support library programming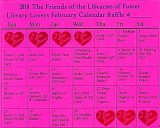 Thank you to our many library supporters who donated prizes this year to the raffle:

Feb. 1    "Fish for Friday" gift card & Lobster tool set
2              Peckham Pottery
3              Unique Batik Scarf
4              Foster Country Club Tavern 19 Gift Card
5              Thyme Farm Basket
6              Charming Treasures Bag
7              Dave's Market Gift Card
8             Barnes & Noble Gift Card
9              Cold Brook Cafe
10         Barnes & Noble Gift Card
11           Showcase Movie Tickets
12           Corner Bistro Gift Card
13          LOF Mug & Dunkins Gift Card
14        Nickle Creek Wine Basket
15           Creative Memories Basket
16           Staycation Basket
17           Swamp Meadow Tickets
18           Weidele's Gift Card
19           Atwater-Donnelly CD & Cookbook
20           Afghan & Truffles
21           Droll Yankee Bird Feeder & Bird Seed
22           Garden Stepping Stone & Seeds
23           David Hughes Art Print
24           Ceramic piece by Sally Freestone, Studio Potter
25           Hank's Restaurant
26           Greeting Card Basket
27           One Yoga Gift Card & Yoga Mat
28           La Gondola Gift Card