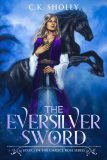 The Eversilver Sword by C. K. Sholly Book Signing on Saturday, July 20 at 1:00 p.m
The Eversilver Sword tells the story of the struggles and adventures of a young woman as she quests for a legendary sword to help her fulfill her destiny. Who is she? Her identity is a mystery. Is she a missing princess or an imposter? A warrior paladin and a brilliant mage rescue her in a narrow escape from a surprise attack. They find themselves drawn into a quest that will determine her fate and theirs.
Books will be on sale at $10 per copy.
About the author:
C.K. Sholly is a Foster native who attended Ponaganset High School and Rhode Island College. She has been an instructor, editor, and was a former Foster Town Clerk. The Eversilver Sword it her debut novel.