Fun for the entire family on Saturday, October 26, 3:45 p.m.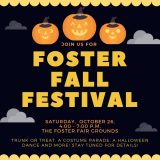 The costume parade starts outside Foster Public Library  (line up at 3:45 p.m.) and follows Howard Hill Road to the Foster Fairgrounds where there will be "Trunk or Treat," a pumpkin walk, an outdoor family dance and the DJ has promised spooky music (!) as well as raffle baskets, and a bake sale.
This event is sponsored by the Foster Recreation Department, The Libraries of Foster, and the Captain Isaac Paine School PTO.
Anyone who would like to decorate a car is asked to contact the Foster Public Library by Wednesday, October 23.  Donations of candy are welcome and can be dropped off at the Foster Public Library.