QUILT Raffle – Drawing on Thursday, December 12, 2019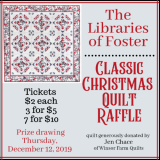 A beautiful quilt sewn by Jennifer Chace is on display at the Libraries.  The Winsor Farm Quilt, in stunning holiday colors, makes a fantastic gift.  It is sewn by foster resident, Jennifer Chace. Tickets are on sale at both libraries up to December 12. Just $2 per ticket ($5 for 3 tickets; $10 for 7 tickets).
Proceeds from this fundraiser will be put towards new moveable library shelving. The raffle drawing is Thursday, December 12, 2019.