Tickets for the Annual Library Lover's February Calendar Raffle go on sale on January 1, 2019 at both libraries, Foster Public Library and Tyler Free Library.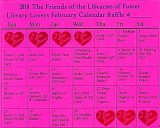 Here is a partial list of some of the exciting donations ready for the February raffle:
La Gondola gift certificate ( a gondola ride on the river in downtown Providence), Pottery, craft baskets, local restaurant gift certificates, a Barnes & Noble gift certificate, and much, much more.
A full prize list will be posted here at the end of December.