Two Wednesday evenings in January,  January 15 and again on January 29, Foster Public Library staff will show you how to get help landing a new job in 2020.  Whether you are considering a career change, or looking for new opportunities given your current training and skills, the online resources will help you find your way.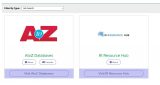 Join librarian, Katherine Chansky, at 6:00 p.m. on January 15 and/or on January 29 for a short presentation, followed by one-one-one help exploring large job databases providing help and as well as job listings.
Call the library to pre-register for the 6 pm presentation.