Thursday, November 15 at 6:00 p.m. at Foster Public Library
Organize & Energize for the Holidays is a free one-hour presentation that will leave you motivated and energized to get through the holiday season in one piece.  Kristin will give you tips on how to reduce the sense of being overwhelmed and provide tips on how to lower stress during the holidays. You'll end this evening with a solid plan in place to get organized for the season.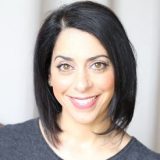 Kristin M. MacRae is an Organizing & Efficiency Expert
and the Owner of Organizing In RI, LLC.