After School Program on Thursday afternoons at Foster Public Library
Students at CIP Elementary School in grades 1 – 5; Registration is required.
Foster School Bus #5 drop-off available with parent note, parent pick-up is at 5 pm. A light snack will be provided. Come and have fun with us!
We look forward to seeing you in September!
Our first After School Program of the upcoming school year will be held on Thursday, September 12th. Please remember to call the libraries and register your child and send them to school with a bus note. If children do not have a bus note to ride to the library they will have to take their regular bus home after school that day.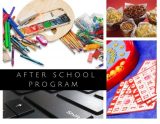 Please call the library at (401) 397-4801 for more details and to register your child.