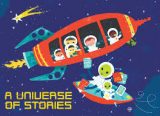 Summer Reading 2019 @ the Libraries of Foster
---
Every summer, libraries across the nation participate in the Collaborative Summer Reading Program, and the theme this year is "A UNIVERSE OF STORIES!"  The programs offered by the Libraries of Foster are here to engage our children and young adults in inspired and innovative ways that promote reading and the joy of lifelong learning and libraries.
We have an ambitious and awesome agenda of programs for kids of all ages. Check this page and our Calendar for the latest events postings.
Please ask to speak to Lindsey or Katherine about our plans for the 2019 Summer Reading Program,  at 397-7930 or 397-4801.
---
DATES OF EVENTS TO BE DETERMINED
---
Weekly Programs during the summer–
Picnic Storytimes -Wednesdays in July and August at 11:00 am-Tyler . A fun filled story time followed by lunch at our picnic tables. Pack a lunch and enjoy songs, games, stories and maybe a run under the sprinkler if the day is very hot. Ages birth – 10.
TGIF  Movies, Technology maker space, and games  Fridays, 6-9 p.m. at Foster Public Library Ages 13 – 19