New Library Blog: Foster Archive of the Pandemic 2020
Curbside Pickup May 2020, read more…
CARES ACT– Paycheck Protection Program
CDC_Homemade Cloth Face Covering (masks)
Covid-19 Information 4/03/20 links to reliable, trusted sources online
New! TumbleBooks – free ebooks for children & teens & Light reading for Adults
Live Story Time 8:00 p.m. on the library Facebook Page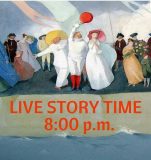 Prenda.com Code Club – Build something awesome!
New Online Learning & Enrichment Resources
Please do not return library materials until the libraries re-open.   Questions ? Reach out.  We check our voice mail and email regularly: 397-4801; libraries.of.foster@gmail.com.
Foster Public and Tyler Free Libraries are temporarily closed as safety precaution. Please check back for further updates.
Health Resources & Coronavirus Fact Sheet     Census 2020
Need a book or movie but can't come in to the libraries?  Find Free Digital reading/listening
For help accessing free eZone digital reading and viewing call us at 397-4801 to speak to a librarian who can get you started using free digital materials.
All Library programs in March are postponed to a later date.
_________________________________________
eZone Help  HERE/    Special Collections List