Knitting Group
Wednesdays, 6:00 p.m., join us on ZOOM
Please e-mail the library at info@fosterlibraries.org for zoom meeting info.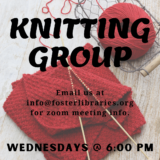 _________________________________
The Knitting Group meets at 6 p.m. each Wednesday at Tyler Free Library to share the love of knitting.
Stop in to show off your latest knitting project to a group who appreciate and enjoy knitting. Come see what others are working on. Pick up tips on where to find wool and check out our collection of knitting books.
While the experienced knitters in this group do not give instruction for beginners, our library's Wednesday evening staff person, Deb at Tyler Free Library, is happy to show beginners how to get started.
Call Tyler and ask to speak to Deb for more information: 401-397-7930.
And keep in mind our library has many inspiring books and magazines for the knitters and sewers of all ages.